Hart House Chamber Strings
The Hart House Chamber Strings is a student-run ensemble at Hart House, University of Toronto. Conducted by Mr. Oliver Balaburski, the HHCS performs three concerts in the year: two classical concerts in fall and spring and a pops concert in winter.
The members of Hart House Chamber Strings consist of students and alumni from the University of Toronto who all share a love for music. We currently have about forty members, more than most chamber groups, which allows us to occasionally divert from the realm of classical chamber music and to take on an eclectic repertoire.
Current U of T members, Hart House members, or U of T alumni may join the Hart House Chamber Strings. During the year, rehearsals take place from 7:30 p.m. to 10:00 p.m. This is a non-audition ensemble, and there are several open rehearsals in September where interested musicians are welcome to come out with their instrument.
MEET OUR MUSICAL DIRECTOR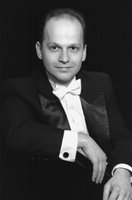 Oliver Balaburski has been the conductor and musical director for Hart House Chamber Strings since 2008. Before his involvement in HHCS, he has had experience serving in such distinguished orchestras as the Symphony Orchestra of Royal College of Music, London (UK), Macedonian Philharmonic Orchestra, Orchestra of the Opera of Macedonian National Theatre, University of Toronto Symphony Orchestra, Opera of the National Theatre in Belgrade, and Nish Symphony Orchestra.
In the realm of opera, Mr. Balaburski had performed La Forza del Destino at the Sofia National Opera and Ballet, and Turandot at Sava Centre in Belgrade. In addition, his repertoire included La Bohème, Don Giovanni, La Traviata, Cavalleria Rusticana, Aida, Tosca, et cetera.
Mr. Balaburski has received many awards, such as:
Arthur Plettner Graduate Fellowship (University of Toronto)
University of Toronto Fellowship
Norman Del Mar Junior Fellowship (Royal College of Music, London, U.K.)
Macedonian National Scholarship for Talented Students
He has completed his undergraduate studies at Royal College of Music in London, U.K., and master studies at University of Toronto, under Prof. Raffi Armenian and Dr. Doreen Rao.